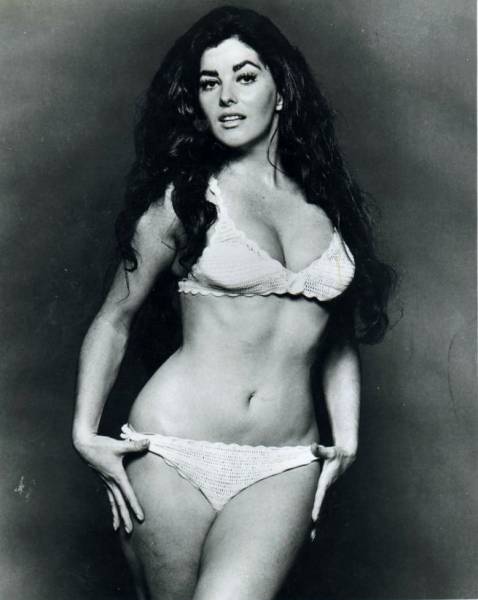 Keeping on the Russ Meyer thread...
When I visit my parents on weekends, around 3 hours away from Toronto, I spend time rooting through a couple of fine antique/flea markets and usually pick up old Playboys from the 60s and 70s. Gotta have something to read in the cinema office after all... I tend to go for the Christmas issues that were packed with extras, I try not to spend over $5 on one and now I actually read them for the articles (Ray Bradbury! Gunter Grass! Alan Watts! Shel Silverstein!).
In the March 1973 issue there is a photo shoot by Russ Meyer of his wife Edy Williams (BEYOND THE VALLEY OF THE DOLLS) talking about an upcoming Meyer's film called FOXY that Russ describes as being about, "A sexy record-company executive who gets mixed up with a number of men in outrageous situations. They'll be involved with oceanography, boxing, World War One aircraft, wrestling, cross-country motorcycling and voyeurism (!? - did this become DR. MINX? - Hal! Help us out here and leave a comment!). There is a great shot of Edy floating speak eagle in a bluer than blue swimming pool with the following quote:
"Russ took this photo in our back yard," Edy told us. "He has a great mind, sort of erotic and classy at the same time. He's a genius, but people don't know it yet. And he's fun to live with too!"
As I look for some shots of Edy online, I have made a startling discovery! Edy has a
blog
!!! She likes posting in CAPITAL LETTERS AND PUTS UP PHOTOS OF HER AT MANY A HOLLYWOOD GATHERING! Good to see the star of
SNATCH MASTERS 6
(only referred to as MASTERS 6 on her blog credit lisitng) still gets out to the red carpet and takes pics with other "stars". Here she is with Fabio!
She also likes to check out how many pics of her are currently selling on Ebay and what the highest bids go for. And some of the photos of her are
REALLY BIG
! Every sexy wrinkle... It doesn't look like she gets many comments on her blog, so go show Edy some love and leave a few. Some of her recent entries:
2007 OSCAR Ellen all glowing in white!..

BEST FILM "A GOOD YEAR"by RID. SCOTT

WHAT EDY EATS FOR LOOKIN' GOOD ?

OUR ANNA N. SMITH TO REST IN PEACE! ITS YOUR BODY…

INTERNATIONAL CINEMATOGRAPHERS GUILD AWARDS!..

GOUGED FOR GAS! OH YUK!

RYAN O' NEAL, YOUR GOODWILL IS PROOF FOR YOU!

BARBARO, A HORSE OR WAS HE? OUR INSPIRATION!.

2007 is HERE!..NEW YEAR'S RESOLUTIONS!
ie: good films to relax the mind, ERAGON, HAAAAPPY FEET! Merry xmas to all white, green, black orange, yellow, brown, purple people!

BEING A ONE WOMAN "PRODUCTION"..

HAPPY THANKSGIVING!!..GOBBLE, GOBBLE.