As much as we can all stand reports about Anna Nicole, I still have to thank Kenneth Anger for his dilligent work in creating the Hollywood Babylon books and revelling in the revelations of all the dirty backroom secrets of Tinseltown and more. I actually started collecting certain posters based on his books and the tragedies that lie within them. A film like 'The Party Crashers' scores a double tragic hit with both Frances Farmer and Bobby Driscoll appearing. Who could resist something like that?
Frances in her final film after years of psychiatric care and a lobotomy and Driscoll drifting downward to a drugged-out death and penniless burial in New Yorks' Potter's Field after his very bright start as a child actor in 'Song of the South', 'Treasure Island' and the excellent 'The Window'. Were they ever so low? Hollywood, at its very stinking heart, is all about exploitation.
So, enter the delicious blonde that is Barbara Payton. Fresh faced and gorgeous from the rosy-cheeked lakelands of Minnesota via Texas and her first, quick marriage and honeymoon to dreams of Hollywood stardom and an idea of how to achieve it. Lots of flings and a love of parties takes her as high as a $10 000/week salary and into the arms of such biggies as Howard Hughes, Bob Hope and any other leading man or casting couch player who could help her career or give her sex, I suppose.
I even remember reading one bit where they talked about her reputation becoming so soiled, especially with on-set romances and co-stars/movie business folks, that Gregory Peck wanted her off the set while they filmed together. He probably had her too.
All went just as expected and the booze and hard living took a toll on her professional life and her personal life and her health and all else and she wound up being stabbed, publically drunk, busted for shoplifting and a possible heroin possession, unfit mothering and loss of custody of her son due to her profane lifestyle choices and finally prostitution. Bad!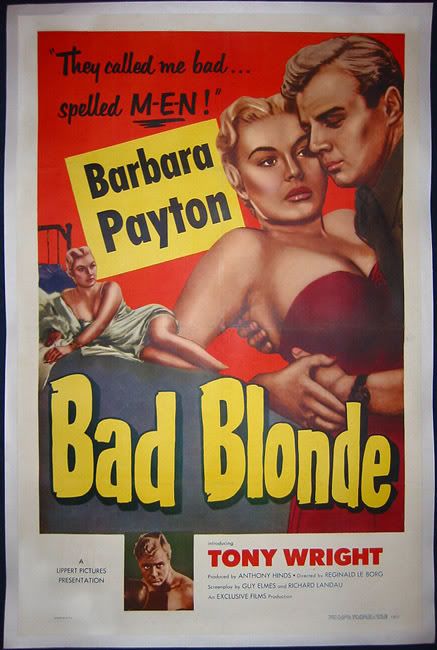 Bad and getting worse until her liver failed while living with her parents and she was dead at 39 in 1967. Every bit as deserving of tabloid covers as any film temptress or professional personality of today. An almost natural cycle.
I think the only film I've seen with Barbara is the excellent 'Bride of the Gorilla' with Raymond Burr, Lon Chaney and George Sanders' (a personal favourite) brother Tom Conway who is also rumoured to have had times with Barbara. I saw a really lousy VHS copy of it so I hope to be able to find a nicer version at one time and see her other films as well because I'm oddly fascinated by her as well as anything with girls and gorillas.
Another great side note (understand that I see the tragedy here but I am mildly intrigued by all of this and the root of celebrity and exploitation...I am not gloating) to this whole story is the final days of one of Barbara's men, Steve Cochran. While I was first reading about her, his story came up and just added a big spoonful of sugar to an already sweet tale. Apparently a lover of women including Jayne Mansfield and Mamie Van Doren, Steve died of a lung infection off the coast of Guatemala while yachting with an all-girl crew of three who had no idea how to sail and careened around the waters for ten days with his corpse aboard until they were finally brought to shore in an overly frantic state, I can imagine.
Barbara released a ghost-written bio titled 'I Am Not Ashamed' in 1963 and I'd like to get one. There is also a book about the woman coming soon from John O'Dowd called 'Kiss Tomorrow Goodbye' so that might be worth a spin.