I just finished a viewing of 1971's, 'Refinements In Love' with Rene Bond and narrated/hostessed by the lovely
Liz Renay
. Ostensibly, I guess it's a quasi-documentary type Mondo film studying the changing morals of the late 60s and early 70s sexual revolution but really it's just an excuse to show some hardcore inserts to prop-up timeless sexual psychology stories and whatnot. There was quite a bit more explicit (it was porno, people) lewdness than I was expecting but the faux doctors and expert opinioners were as great as the examples of problems they brought forward for examination. The french kissing seemed awkward.
One 'soon to be married' couple consisted of a prudish girl of Victorian strongmindedness and a self-described normal, red-blooded American who just couldn't handle it anymore. She calms his raging animal and then tries to get the subject changed.
Near Wife: Tell me what you did today.
Near Husband: I suffered.
Me: big laughs
*Spoiler* Apparently they later separated and he moved to the East Coast while she retained custody of their child. *End spoiler*
All the while, there is this intermittent yet interesting folky score that outlines some of the activity on the screen and clearly inspired later acts such as
Arthur & Yu
. The waterbed song is pure enchantment.
Anyway, enough of my cold and congested rambling, the real reason I am here is to show that the marquees of sleazy California are as good (not quite so, though) as Times Square. As usual, these Mondo films have a great batch of footage with vast historical significance to some people. And there's a nice montage of what appears to be Las Vegas' land of topless establishments in there as well.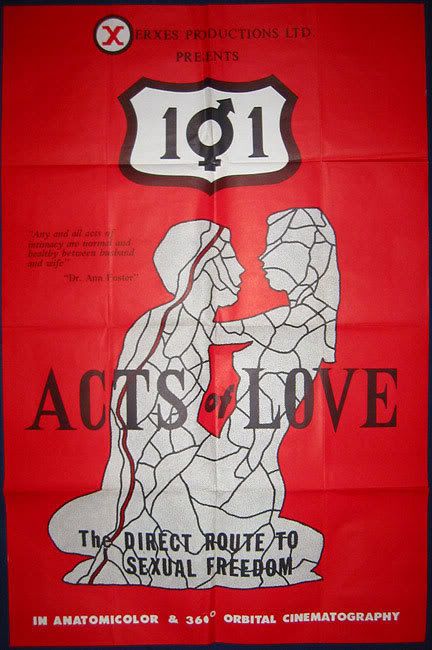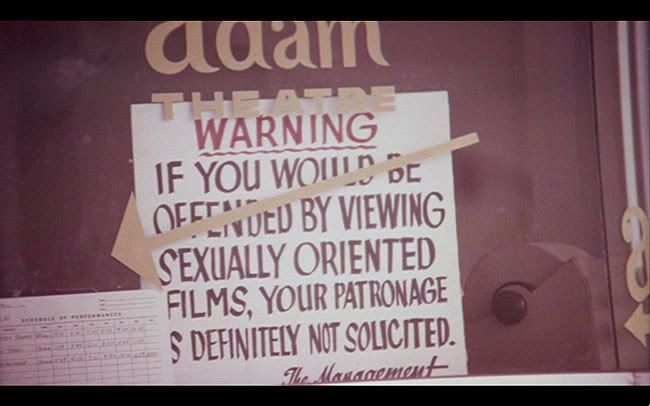 And, curiously, we have Times Square for a second in there too. Meduim Cool across the street!