This week I was perusing the Twitterings of the awesome
Hal Kelly
(exact awesomeness unavailable as all gauges need to be calibrated and re-set to his leading format) of Trash Compactor magazine/Deviant Culture Exchange legend and he kindly alerted me to the release of this book which I then ordered in about three minutes time.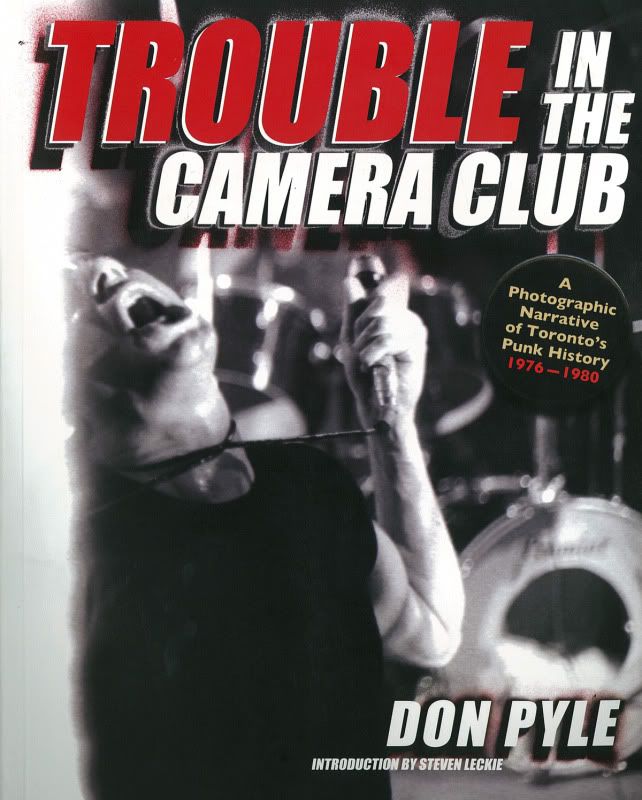 If you'd been to
Rotate This
in past months, you may have noticed, as I had, a collection of early Toronto punk rock photographs by Shadowy Men (among many other bands) drummer and possibly the best writer (the old backpage BLAB coming close) reviewer
Exlcaim!
ever had, Don Pyle. Along with the recent release of Treat Me Like Dirt (which I mentioned previously in these pages) I was hoping we might get to see a book of Pyle's great shots and now here it is by the chair really near where I type this now. I'm about three-sevenths through it and it's worth double every penny. Early and special copies come with a 7" record with some Toronto punk memories but I haven't had time to play it yet. The collection of shots, xerox posters and concert stubs (along with great writing) is enough for sure.
I didn't see any show that Don saw back then (I was a bit younger) but I did see Shadowy Men on a Shadowy Planet downstairs at Sneaky Dee's when it was at Bloor and Bathurst. Greg Keelor was sitting at the bar, backwards, and watching. The only seat my girlfriend at the time and I could grab was by the ventilation grate and all the cigarette smoke came past us. Even with dying eyes, it was a superb show. I got drunk and left a care package I had brought from home here (I was a recent transplant to T.O.) under the table and always wondered what the person who found it thought of tin-foil wrapped turkey, some canned soup and an alarm clock.
There is a fucking amazing picture of Gord Lewis (I was a big Teenage Head fan) on page 159. It's total rock and roll!
Go
and get it right now or just keeping being a jock asshole or something.