Colin here. Michael started this post with an image and I am adding on to his post.
We've been a little slow in joining the procession of mourners for
Forrest J. Ackerman
, a king of men in a world of fanboys who passed away on Dec 4th, but we did wish him a
happy birthday back in 2006
.
Read what Richard Corliss had to say about Forry:
Fan as in fanatic. Fan as in fancier. Fan as in fantasy lover. Forrest J Ackerman, who died Thursday at 92 of a heart attack in Los Angeles, was all these things and many more: literary agent for such science fiction authors as Ray Bradbury, Isaac Asimov, A.E. van Vogt, Curt Siodmak and L. Ron Hubbard; actor and talisman in more than 50 films (The Howling, Beverly Hills Cop III, Amazon Women on the Moon); editor of Famous Monsters of Filmland magazine and creator of the Vampirella comic book franchise. But each of these trades was an exponent of his educated ardor for science fiction, fantasy and horror, and his need to share that consuming appetite.
Time to buy some ratty old copies of FM on eBay. I like my mags read and enjoyed. I like them to come with their own history.
And yesterday pin-up queen Betty Page passed away
. Read the good
obit at the LA Times
. My first exposure to her was when I first came to Toronto in 1988 and made friends with other fans of goth and industrial music (my musical tastes have broadened much further since then). One guy, Fred, had this great silkscreen of Betty on the back of his leather jacket that had her over someone's knee getting some slaps on her ass. This was also a clear signal of Fred's boudoir interests. Ah, back over 15 years ago when when kinks were still somewhat taboo... Below is an image from Michael's collection, clearly an all star team-up. You can find this jiggle flick on Something Weird. Good party tape.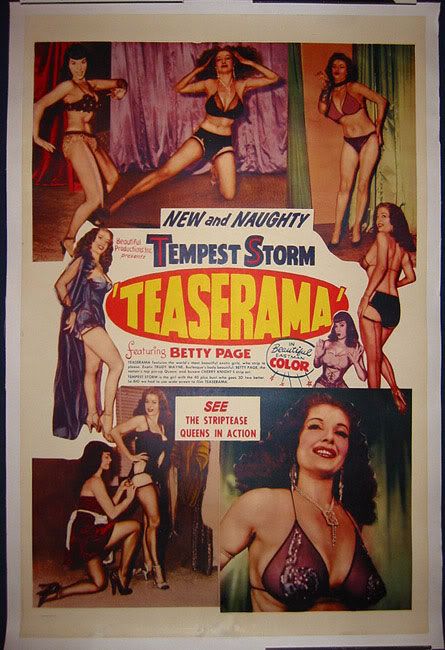 And keeping on the Betty theme, over the blog of our fave lovely undead latin lady, Blonde Zombie is this
link via Twilight Zone for the rapidshare of the compilation of crime/spy-jazz tunes from the Marlowlynn & Chappell music libraries called "Bettie Page: Danger Girl - Burlesque Music"
. Not much of a connection to Betty Page, aside from being good music to bump and grind to. If there were still such things as go-go bars where this music would be played and dames would wear pasties, I'd go have a few cocktails with the rest of the dudes here at Popcorn and Sticky Floors in memory of these two legends...